One more time, the expert in German wine Alexander Barzen, from the prestigious Weinhaus Barzen, visited SPRINT IDIOMES. On November the 8th, he offered a fabulous WINE SEMINAR for the students of the Adult Department, who had a great time discovering wines from Mosel valley. As usual, this activity is free for the students of the Adult Department.
This is how the seminar started: "What makes the Mosel wine so special? The steep valley and the Mosel river help to form new vine theatres again and again. The richness of the area inspired the foundation its wine culture, over two thousand years ago. Today just as then, these are the basis of our culture and work".
The students had a lot of questions about the wine making, and the expert answered them all, and we could tell he loved his work: "The result of good vineyard care is a wine which reflects nature in a graceful way. As a result, we enjoy great fruity Riesling wines!".
What follows is a list of the wines that could be tasted in the seminar, along with some fine cheese, their history and some food recommendation from Alexander Barzen.
THE WINES IN THE SEMINAR
1) Riesling trocken
A white wine made from one only variety ´Riesling´. The ground in the vineyard is slade, so the minerals of these slade stones are transmitted to the wine. Recommended as an aperitif or accompanying rice dishes.
2) Riesling trocken "Cepas Viejas 1886"
This vineyard was planted in 1886 by the family Barzen, and there are just a few vineyards of this age in Europe. Good companion to fine foods, fish and white meats.
3) Riesling Spätlese feinherb
Riesling from steep slope vineyards. Presents a bouquet of lively interaction between acidity and fruitiness! Resulting in a nice and lasting ending. Perfect as a companion to Asian cuisine!
4) 2017 Riesling GOLDKUGEL
A dessert wine elaborated in big crystal globes. The maturation of this wine is possible for 50 years or even more! Great with Asian and especially Indian cuisine.
5) 2002 Riesling EISWEIN
Elaborated from grapes picked from the freezing wintery vineyards and pressed while still deep frozen, extracting only the essence of the little berries. This Eiswein is a delicious drink on special occasions!
Thank you very much, Alex! We will see you and your wines again next year!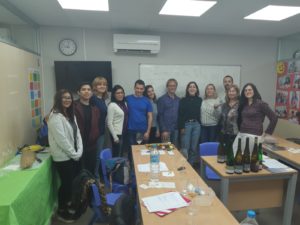 You can visit our Gallery: Wine tasting gallery